It's a Tuesday but it definitely feels like it's a Monday! How was your long weekend? Mine was all about indulgence since it was my lil' Mr. JG's birthday last week and it was my birthday yesterday, there were two reasons to celebrate. But the weekend indulgence wasn't just about food and festivities because last Saturday, August 29 I went to ZenFestival Manila as ASUS announced what's new from their Zenfone category.
ASUS CEO Jerry Shen was eager to unveil the latest Zenfone. He also thanked the Filipino ASUS fans for the support they've given to the brand for all these years, especially for ZenFone.
I assume they'll launch a successor to Zenfone 6 with minimal upgrades but to our delight, not only did they launch one phone, but they presented three new Zenfones with a bonus teaser introduction on the fourth one that'll be available come October.
ASUS DesignCenter Daniel Alenquer showing off the ZenFone 2 Deluxe, the first of the three phones that were unveiled that afternoon. The back design is inspired by the natural beauty of crystals.
ZenFone 2 Deluxe retails at P17,995.
ZenFone 2 Deluxe has an incredibly-sharp and vivid 5.5-inch Full HD IPS display with a 403ppi pixel density and a wide 178-degree viewing angle, ensuring lifelike photos and videos and great-looking apps. ASUS TruVivid technology enhances display performance even more with bright, brilliant colors. The display has an ultra-narrow 3.3mm bezel, giving ZenFone 2 Deluxe a remarkable 72% screen-to-body ratio for a maximized viewing experience, and is crafted from Corning® Gorilla® Glass 3 for superior resistance to damage and fingerprints. An anti-fingerprint coating reduces friction by 30%, giving a luxuriously-smooth feel to touch gestures.
Next, Daniel shows off ZenFone Selfie, the perfect phone for taking pictures, particularly a selfie.
ASUS ZenFone Selfie at P11,995.
ZenFone Selfie has been carefully engineered and thoughtfully designed to capture the best possible selfies, quickly and simply. It takes just a simple S-shaped swipe on the high-density 1920 x 1080-pixel, Corning® Gorilla® Glass 4 display to fire up the 13MP PixelMaster front camera ready for shooting. Gorilla Glass 4 means ZenFone Selfie's display has twice (2X) the drop-damage resistance of its predecessor and 2.5X retained strength, and is 85% less likely to break in daily use.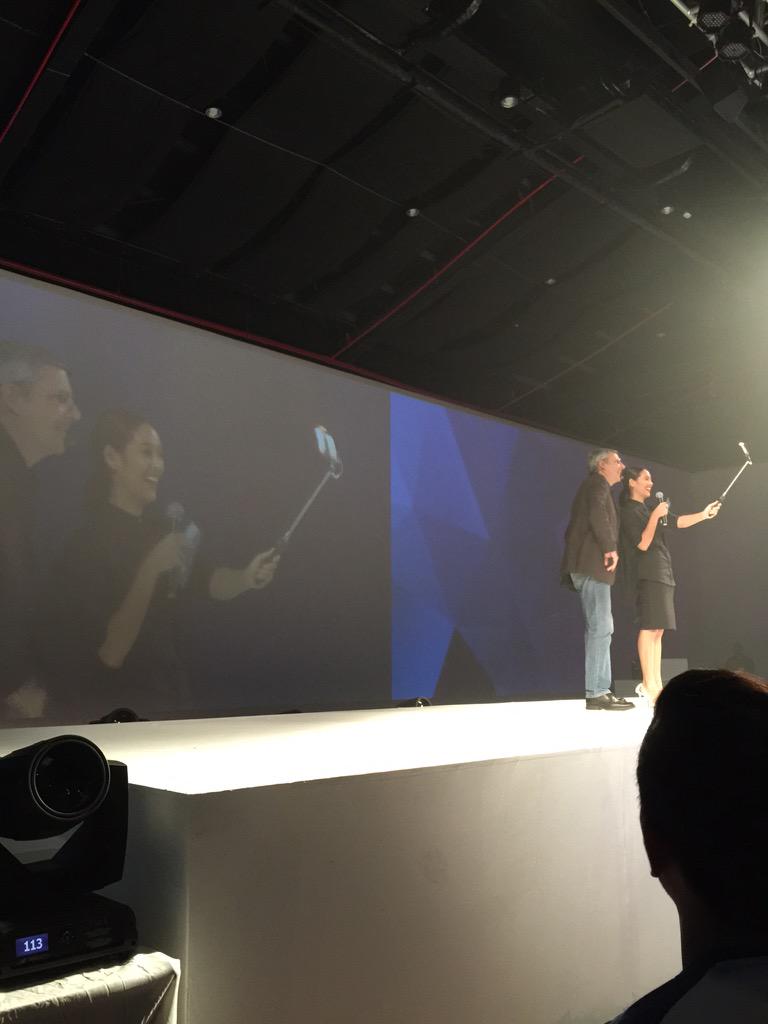 photo by @dominiquetiu
When more illumination is desired, ZenFone Selfie's dual-LED, dual-color Real Tone flash brings true-to-life colors in every photo, creating the most natural illumination for indoor portrait shots. The moment the shutter button is pressed; ZenFone Selfie delivers the perfect combination of yellow and white light to produce flash-lit shots capturing authentic skin tones — just like real life.
ASUS Davinci Lab Kai Pang had a quick live demonstration between ASUS ZenFone Selfie and iPhone 6 when it comes to its camera features.
ZenFone Selfie also has Selfie Panorama mode, which exploits ZenFone Selfie's f/2.2-aperture front lens and 88-degree field of view to capture panoramic selfies of up to 140 degrees with a simple turn of the wrist. With Selfie Panorama mode enabled, selfies become a party with all friends included — plus the ability to capture panoramic scenery for stunning backdrops.
Low-light comparison- ZenFone Selfie on the left versus iPhone 6 on the right. You be the judge.
Low-light performance is unparalleled, with innovative pixel-merging technology that increases ZenFone Selfie's light sensitivity by up to four times (4X), and the incredible Backlight (Super HDR) photography mode that uses special pixel-enhancing technology to enable up to 400%-better brightness in dark and shaded areas.
ASUS CountryManager George Su unveiled the third phone that afternoon- ASUS ZenFone 2 Laser
ZenFone 2 Laser at P8,695.
The new ZenFone 2 Laser models all benefit from a 13MP PixelMaster camera with an f/2.0 wide-aperture lens to capture stunning, high-resolution photos with zero shutter lag — and laser auto-focus technology empowers users to capture perfect clarity in just 0.3 seconds.

PixelMaster's industry-leading Low Light mode employs pixel-merging technology to capture up to 400%-brighter photos at night, or in low-light scenes, without the need for a flash. When a flash is preferred, ZenFone 2 Laser is equipped with a Real Tone flash to ensure warm skin tones and accurate color.

ZenFone 2 Laser's PixelMaster camera also has Backlight (Super HDR) mode to capture vivid, evenly-exposed photos in challenging backlit scenes such as sunset portraits. Pixel-enhancing technology increases contrast by up to 400%, ensuring that foreground subjects stand out clearly and are free of shadows.
The fourth phone ASUS revealed was ZenFone Max which works not just a phone but as a power back with its 5000mah battery! Yes, you can charge other gadgets with it, galing! This though will be available in October pa.

After the short presentation, there was a quick fashion show featuring the ASUS ZenFones.
The ASUS team with Kim Jones and the adorable Zenny. I wanna take you home with me you cute lil' owl you!
Here I was with fellow bloggers Arisse (and boyfie), Chin Chin, Nicole, Dominique, and Yuki.
It's such an exhilarating feeling to be present during a big reveal. My fingers couldn't catch up with the live updates I want to post over my Facebook, Twitter and Instagram page about the new ZenFones.
So much excitement that I busted out my very own ZenFone Selfie and immediately used it over the weekend. Heehee.
Upon setting up my ZenFone Selfie, I received a notification that I have 100GB of Google Drive storage free for 2 years. Yay!
Transferring of data was also easy. I just had to connect y previous phone with my ZenFone Selfie via Bluetooth. Easy peasy transition.
My first self-we using my ZenFone Selfie.
The 13 megapixel front (and rear) camera really makes each photo clear. It also has a 140 degrees outlook that's perfect for taking self-we, giving enough space for everyone to fit in with enough space for the view, or in this case, enough space to show how roomy Chevrolet Trailblazer is. 😉
The ASUS ZenFones are now available in all authorised resellers nationwide.
What's your favorite among the newest and latest ASUS ZenFones?
ASUS PHILIPPINES