With a week to go before Christmas, I'm sure we all know by now that the most important people in our life are the ones that are hard to give gifts to. Yung totoo? I wish everyone I know would make a wish list or at least give hints on what they want or need as gifts. Kasi naman, we're not fortunetellers, who can predict a person's dream or wish! OMG, especially guys who are totally clueless on what their ladies want for Christmas. Dapat may matinding hint at parinig so they know what we want. Relate?
For that, I've been doing my yearly wish list here on the blog so that Mr. GJG *ahem ahem* can take a peak at what I want to receive. Of course most of the time, he still gets something that's not on my list but is definitely still something that I want/need. Nonetheless, I'm sharing with you all my 2013 Christmas wish list.
Being the domesticated home maker that I am, expect more items for the home on my list. But of course there are still some things I lust over that only my fellow women & ka-bekibells, who like pretty things will understand. 😉
For the domestic diva in me, I want these.
Philips Air Fryer. So I would not feel guilty about eating fried foods.
Clothes steamer. Because having no maid nor yaya is a challenge already, having to iron clothes especially trousers that need precise ironing isn't something I'm really fond of nor good at. I want this kind of clothes steamer. It's just like painting and with just a few strokes, the clothes are crisp and ready to wear. Bye, bye iron board and wisik-wisik the water on the clothes. Haha.
Air Purifier. Metro Manila's air pollution is getting worse every year as well as my and my family's allergies. It doesn't help that we live on a busy road where hundreds of cars pass by every single day. If we had the money, we'd move to a village but 'til then, I'll take this air purifier, thank you very much.
Coffee is the most common and legal drug that we can ingest, with that I'm telling you all that I'm a self-confessed coffee addict. Even when I was pregnant with both my kids, I couldn't not drink at least a cup a day. This Nespresso machine is my ultimate wish! I want to own one, drink a cup everyday so I can stay awake blogging, doing chores, and taking care of the kids. Hey, I have a valid excuse to get this anyway right? 🙂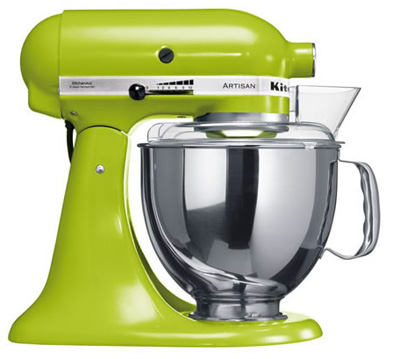 Still on my wish list after two years- this lovely Kitchen Aid Mixer. I haven't baked a decent batch of cookies with my oven, not because I don't have this mixer (but it can be a good excuse) but because I haven't tried. Hahaha. Nonetheless, I'd be more eager to start baking if I have this beauty as part of my baking arsenal. Grabe, I would bake and bake and bake if I have this. Okay fine, maybe not bake, bake, bake. Baka bake lang. Hahaha 😉
Lastly, I want and need a chic wall shelf for our home. When you live in a condominium, every space counts. We haven't installed much wall decors nor shelves. We figured we don't urgently need it because all our things still have their own proper place and installing additional shelves means more cleaning and more reason to buy more knick knacks, decors and books! We dislike the idea. Still, it would be nice to have something like this installed in our home. A sight itself plus a conversation piece don't you think?
For the style savvy me, I want these.
Phillip Lim for Target. I know this is so 2013 and a new designer is collaborating with Target for 2014. OMG I'm so excited! Nonetheless, I still want the dresses of PL x Target. Any of you know someone in the US (or here) who resells these beauties please let me know! I'm a size US 4 😀
Pandora Bracelet with a four-leaf clover and owl charms. I'm not a fan much of sterling silver as I'd rather save up on gold or precious stones instead, but if there are four-leaf clover and owl charms then I'm considering owning a Pandora bracelet.

Nice no? So me! I now want it!
Lastly, for the mom & beach bum me.
I super duper kaduper want a trip to the beach. It has been more than two years since our last decent trip. The sand, sea, and water are calling me. I cannot wait to go with my kids and see how much fun they'll have!
I don't really have much lusting when it comes to material things, compared to the past years. I tell ya, motherhood really changes you, or is it because I'm getting old? Ha! I would rather get vouchers or deal coupons to an overnight stay at fancy five star hotel or a trip somewhere where I can spend time with my family. The experiential gifts for me are far more valuable that physical ones. After all, making memories is my top priority now when it comes to giving something and taking something from the people that I love.
I want time to spend, good health and safety for my loved ones. These would be the best gifts I would like to receive and give this season.
Are you done with your Christmas shopping? What's on your wish list? Share naman baka gusto din yan! Gaya-gaya lang ang peg 😉