The thing I hate most about the holidays is when it comes to an end. All that anticipation and excitement slowly dies down when its close to the end. The only thing though that I like post-Christmas is shopping! Apart from the fact that malls and retail shops tend to be less crowded, since everyone's too pooped out and probably broke to shop, I'm loving that brands always have an End Of Season Sale!
Yes, yes yo! Here's my secret that's not so secret anymore: I go crazy shopping when the holidays are over. And because I love online shopping, I'm sharing you all my latest discovery- you can now shop at MANGO online!
MANGO is the very first International brand that I tried shopping from that has its own site, which provides hassle-free online shopping experience for their clients all around the world. That being said, our beloved country, the Philippines is one of the countries MANGO ships to. Yahoo!
Your eyes aren't fooling you! These pretties are on sale and are automatically converted into our currency. You'd be surprised that some are even cheaper online than their SRP while some of them aren't really available at MANGO stores here in Manila..
And because it is really a hobby of mine to browse (surf, surf the net pay may time haha) online sites of my favourite brands in the wee hours of the night, I stumbled upon a few chic MANGO pieces that I have had a love-at-first sight with. Of course I couldn't resists, If I did then I wouldn't have this post to share.
Like this chic shirt that was 500 php off!
You can even navigate MANGO's online shopping site on your phone with a breeze. Checkout was easy, then you'll be directed to a page where the usual filling out of information is done. You can choose between PayPal or credit card as your preferred mode of payment. After which you'll receive a confirmation email, notifying you of your order. Did I mention you get free standard shipping when you order above 6,000 php? Yes, you do.
At first I was scared thinking that standard shipping may mean that my order will be shipped to my city post office. Shucks. For a while I was so nervous that I would have to deal with customs, which means having to pay for an incredibly ridiculous tax which I-don't-really-understand-how-they-compute-kind-of-hocus-pocu-customs-tax. That was something I got stressed about. Nonetheless, a tweet from MANGO assured me that I need not to pay for any additional tax and that package will be directly delivered to my shipping address.
True enough after just four days, (Christmas day excluded) my package arrived fresh from MANGO Barcelona. Toooroooy!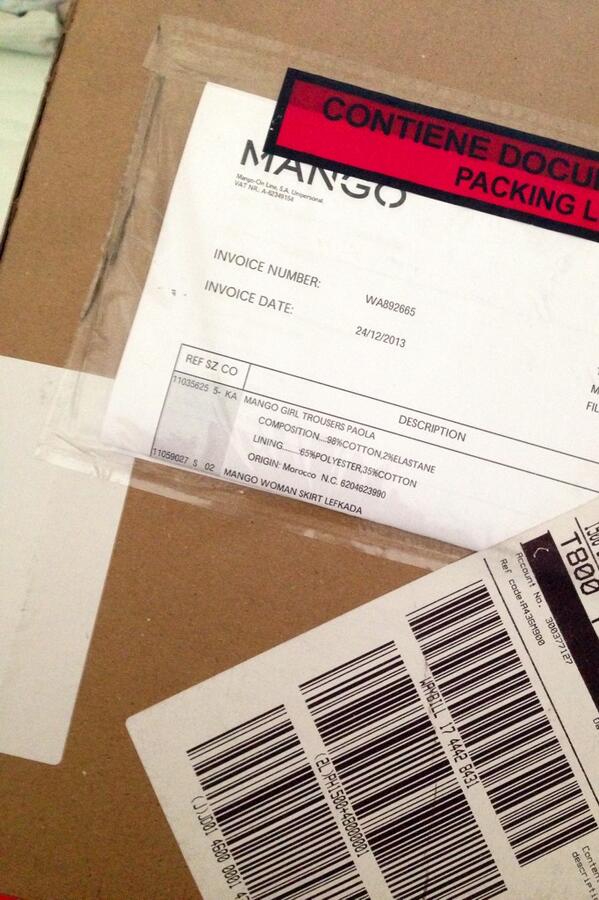 It arrived directly to my home. Free from having to pay for any additional tax which means free from any unnecessary hassle. Ay lav ett!
I was so impressed with MANGO's efficiency to deliver my order a few days earlier than I expected. Making it such a refreshing feeling especially for low EQ online shoppers like me, who cannot wait to get a hold of their newly purchased goodies.
Can't wait to show you what I shopped! Meanwhile, take this opportunity to grab your favourite MANGO pieces! Shop at MANGO online while they're still on sale. Limited sizes and stocks, but if you know what you want, then you won't go offline empty-handed 😉
Shop online at www.mango.com